Magento 2 One Step Checkout extension
Magento 2 One Step Checkout extension is one of the most optimal solutions from to reduce the abandonment rate as well as increase the conversion rate dramatically.
One Step Checkout
What is Magento 2 One Step Checkout Extension
Magento 2 One Step Checkout extension is the fast checkout with well-designed interface, that helps thousands stores increase sales by 60%, 30% conversion rate and decrease abandonment cart rate by 66%.
Beside all necessary order steps are shown on one page, during checkout process, there is any change of customer's order will occur and update instantly on page checkout without navigating other sites by Ajax loading.
Why need One Step Checkout Extension
With only one step and one page, your customers can save time when checkout. Besides that, it helps reduce abandonment rate for your store.
The outstanding features provided to Magento store owners are:
Adjust checkout page design
Allow the customers to edit product selections when checkout
Set values in the advance default for specific checkout fields
Find geographic location automatically and Google Address Suggestions
Show delivery date and time options
Customizable and mobile optimized checkout page design
Set default preselected values for particular checkout fields
Let customers edit product options on the checkout page
Main Features of One Step Checkout
Easy to customize checkout page design
You are allowed to customize flexibly the displaying of checkout step. It maybe divided into 1, 2 or 3 columns as well as depending on your aim. In addition, 8 popular colors are available for creative and attractive website. Especially, we also support you 9th color that you can freely custom depends on needs of yourself. The rearrangement number and order of fields becomes more easy and simple by just dragging-dropping into desired place on the front-end.
Choose checkout page layout
Display all checkout steps on a single checkout page. Select a 2 column or 3 column layout to find which works better for your store.
Customize layout checkout page
Turn your checkout page into a real eye candy by customizing its design. Select on checkout page text font and colors for:
Checkout background.
Heading text.
Order summary block.
Place Order' button.
Add title and description in a checkout page
Provide customers with any additional information concerning taxes, shipping … in one checkout page.
Optimized Checkout page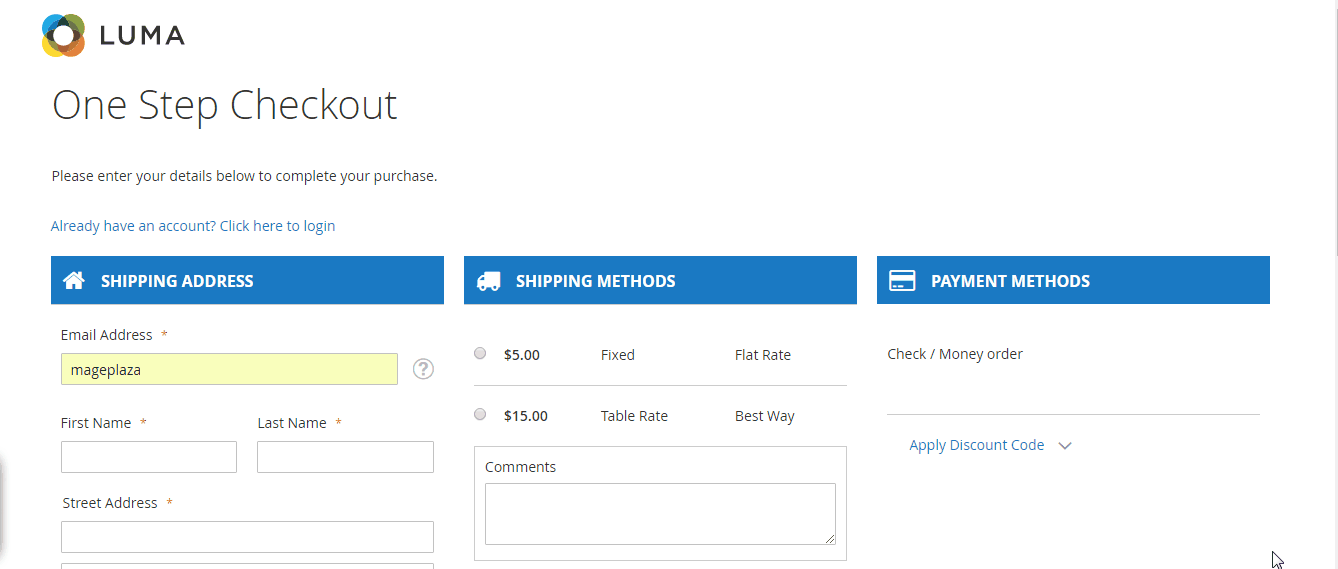 The module adds order details about shipping & payment, gift wrap, order comments and other info to the checkout success page.
To simplify the checkout process, One Step Checkout extension gathers all complicated default steps to display on one page only.
With the extension online shoppers get a wonderful opportunity to change product options (configurable or custom) right on the checkout page. Therefore, there is no more need to spend time on visiting product pages again to edit item's color, size or other attributes.
The module enables you to display custom CMS blocks on the order success page. This way you will effectively promote any store items or additional services and boost repeated purchases.
Auto Suggest Address when Checkout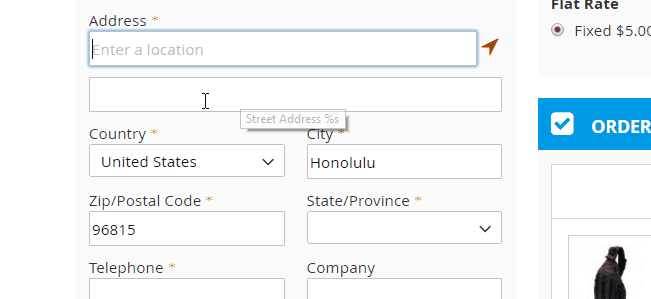 More advanced than other One Step Checkout extension for Magento 2, this module integrates Google Maps Suggestion tool with automatically locating, called as Find my location button. Customers only need to click on the button and then his/her address field is fulfilled immediately. If not, they can complete the address field as normal with Google Address Suggestion and Post Code anywhere.
Promotion display
Apart from providing the quick checkout, its Checkout Promo tool is also an amazing way to promote your sales. Admin can set rules for applying which customer groups, configuring start date and end date. When all required conditions are met, the promotional message will be shown.
For example: Get an Extra 10% Off with Order of $100 or More, Get X free when buy Y items, $10 Off Your Purchase Of more than $100.
Cross-sell products in Checkout page
Another way to encourage customer to buy more and more is giving them some related products which they may be fall in love with. If you're selling pets, you can offer pet foods, pet beds, pet cages or pet toys, etc. The cross-selling is shown at the bottom the checkout page. Thanks to that, you can significantly increase revenue while your customers always feel satisfied and convenient because of saving time to find other useful choices.
Payment methods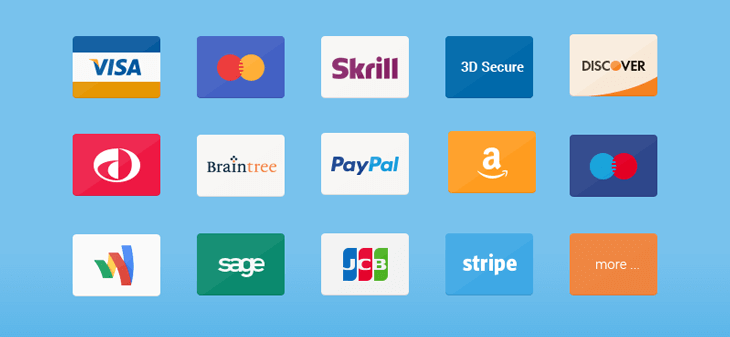 Nearly 100% payment methods are compatible with our one step checkout extension like: Stripe payment, Credit Card, Paypal checkout, SagePay, BrainTree, Skrill, Bitcoin, 2Checkout, OnePay etc.
Useful tools
Allowing buying your products for impressing gifts to customer's loved people. Customers can send a gift message right on checkout page, no email account login required, just fill customer email, receiver email and a message even request beautiful gift wrapping. The perfect present will be sent in exact time they set before.
Including:
Gift message
Make your shoppers entirely satisfied with your store by supplying and delivering the gift message to their beloved.
Gift wrap
Your customers want to send their friends pretty wrapped presents? Help them complete the order with gift wrap option.
Delivery time
Let your clients indicate the most convenient day and time interval for the order delivery. Add a comment field to this section to allow customers note any delivery details.
Besides, store owners can understand more about target customers via short survey question.
Quick View
Change Logs

One Step Checkout v2.5.0 - 13 June 2018

Added Static block to the top/bottom of the checkout page
Added Static block to the checkout success page
Added Seal static block under the Place Order button
Added a new 2-columns layout
Ability to show/hide the item list on the Review section
Improved item qty update feature
Sort customer attribute fields
Update mini-cart qty when item qty is changed on checkout page

One Step Checkout v2.4.5 - 08 May 2018

Auto-scroll to the field left blank on the validation
Fixed the error in changing item quantity when Product Qty Increment field is enabled

One Step Checkout v2.4.4 - 02 April 2018

Scroll page to the empty field on validation
GeoIp on restricted country
Register account on Magento 2.2.x
Cannot translate customer attribute labels

One Step Checkout v2.4.3 - 16 March 2018

Separated GeoIP library
Moved One Step Checkout Menu to Magento Stores menu
The customer cannot login to his account when registering via OSC
Empty billing address when buying the virtual product with "Show billing address" config set to "disabled"

One Step Checkout v2.4.2 - 14 December 2017

Compatible with Amazon Pay
Compatible with Magento 2.2.x
Redirect to the OSC page on configurable products
Save the customer's address when they create an account in the checkout process
Cannot have payment method fields if customers check out a virtual order (customer logged in)
Cannot place a virtual order with saved addresses

One Step Checkout v2.4.1 - 19 October 2017

Compatible with Magento 2.2.x

One Step Checkout v2.4.0 - 16 August 2017

New Features
Material design
Geo IP
House security code
Fix some bugs

One Step Checkout v2.3.6 - 19 June 2017

Add features Billing address before shipping address configuration
Compatible MultiSafepay (included)
Fix delivery time clean up issue
Fix bug default payment from admin
Fix bug validate shipping method and move order comment to shipping method

One Step Checkout v2.3.5 - 14 April 2017

Coupon code area loading compatible with all versions of Magento 2.1.x
Check Term & condition with logged in customer
Some small minor bugs

One Step Checkout v2.3.4 - 07 April 2017

Fix minor bugs, compatible with mobile screen

One Step Checkout v2.3.3 - 30 March 2017

Fix some css bugs
Create account when checking out virtual order
Load only active payment method in configuration

One Step Checkout v2.3.2 - 22 March 2017

Fix bugs css
Customer not login can go through checkout page without Authenticate popup (downloadable). Customer has to register at checkout page
Load payment method if country change on virtual quote

One Step Checkout v2.3.1 - 17 February 2017

Total shipping amount not update when shipping method amount changed
Billing address auto open when add new shipping address (customer login + has address before)

One Step Checkout v2.3.0 - 17 February 2017

Dont load blocks when changing shipping address (bug with some 3rd party shipping method)
Show only active payment methods when choose default from backend
Delivery time

One Step Checkout v2.2.0 - 26 December 2016

Add feature: Order giftmessage
Compatible with Social Login extension
Fix bugs

One Step Checkout v2.1.0 - 22 December 2016

Address field position
Giftwrap
Popup login
Some bugs fixed
Compatible with Magento 2.1.3
Compatible with IE

One Step Checkout v2.0.1 - 06 December 2016

Create account when checkout on Magento 2.1.2
Correct Product Url in cart summary
Validate multiple TOC

One Step Checkout v2.0.0 26 November 2016

Re-organize structure
Resolved compatible issues for almost extensions tested with Magento 2 default checkout
Better knockout js loading: address, shipping, payment methods

One Step Checkout Version 1.8.4 - June 28, 2018

Fix: the issue with editing configurable products on Checkout page was fixed
Fix: the issue with payment methods on Magento 2.2.4 was fixed

One Step Checkout Version 1.8.3 - June 26, 2018

Fix: the issue with editing configurable products on Checkout page was fixed
Version 1.8.2 - June 15, 2018
New: the information section is added. Now you can see the version of installed extension, available updates, User Guide link and other useful data right on the module Configuration page
Fix: the error appearing in some cases when Default Address is being used was fixed

</li>

One Step Checkout Version 1.8.1 - June 01, 2018

Compatibility: the support of Klarna Payments was tested
Improvement: the localization was updated
Fix: the problem with a regression, which caused the disappearance of the data entered at checkout after the page reload, was resolved
Fix: the problem with the incorrect display of Billing Address checkbox when the 'Display Billing Address On Payment Page' setting is enabled was fixed

One Step Checkout Version 1.8.0 - May 17, 2018

New: the ability to change the position of the Terms and Conditions checkbox was added. Now you can choose whether to display the checkbox below the 'Order Review' section or with the payment methods.
Compatibility: the support of the PostNL shipping method was improved.
Fix: the issue with display of the Virtual Products' details was fixed.
Fix: the problem with the default checkout layout display after disabling the extension was resolved.
Fix: the issue with the Order Total display on Magento 2.2.4 was fixed.
Improvement: minor design adjustments were made.

</li>

One Step Checkout Version 1.7.1 - May 11, 2018

Compatibility: Magento 2.2.4 Enterprise Edition support was added

One Step Checkout Version 1.7.0 - April 20, 2018

New: a Delivery Comment in the 'Delivery' section was introduced. Now your customers can leave any message to a courier, for example, a PIN code to access the building.
New: now it's easy to add a CMS block to the top and bottom of the checkout page. CMS blocks on the checkout allow you displaying any useful information as trust seals, hotline telephone or any other useful information.
New: now it is possible to change checkout block titles like 'Shipping Address' right from extension configuration.
Now the checkout fields that are required by default Magento configuration can't be changed to optional.
CSS 2 LESS refactoring was introduced. The One Step Checkout extension uses the LESS functionality. With this update, custom modifications can be easier to make.
Now the data entered at the checkout page won't be reset after the page reload.
Fixed several issues with the Default Address.
Fixed an issue with the product qty editing at the checkout.
Minor design changes were made.

One Step Checkout Version 1.6.1 - April 11, 2018

Fixed an issue with Configurable Product qty update

One Step Checkout Version 1.6.0 - April 03, 2018

New: compatibility with Amasty Gift Card extension introduced

One Step Checkout Version 1.5.1 - March 28, 2018

ol>
Compatibility with 3-rd party themes improved
</ol>

One Step Checkout Version 1.5.0 - March 23, 2018

New: added the compatibility with Amasty Custom Stock Status. Now statuses which are set by Custom Stock Status extension can be displayed under the product name at the checkout. The setting 'Allow to edit products in the Order Summary' should be enabled in Checkout configuration.
New: compatibility with Amasty Reward Points was introduced. Now you can apply reward points right from the checkout page
Compatibility with Amasty Delivery Date was improved.
Fixed the issue with updating the Shipping Methods section after certain conditions were applied
Fixed the issue with the Autocomplete feature that was displayed the street number incorrectly.
The setting 'Create an account' was moved to the Additional Options section in the extension configuration settings.
Improved the compatibility with Magento 2.2.3
Other minor fixes

One Step Checkout Version 1.4.0 - December 18, 2017

New: Amazon Pay support was implemented.
Compatibility with PHP 7.1 was improved.
New: now the newsletter checkbox 'Sign up for a newsletter' isn't shown for already subscribed customers.
The display of the newsletter checkbox 'Sign up for a newsletter' was fixed.

One Step Checkout Version 1.3.1 - November 20, 2017

Fixed order view error on Magento 2.2

One Step Checkout Version 1.3.0 - October 27, 2017

New: "Create an account" checkbox added on Checkout. When checked, registration email will be sent after order is placed.
Place Order button is now blocked when you edit Billing Address
Multiple minor fixes

One Step Checkout Version 1.2.2 - October 06, 2017

Fixed the JS error caused by empty address fields in Address form
Magento 2.2 compatibility tested and confirmed

One Step Checkout Version 1.2.1 - August 22, 2017

Applying coupon code will reload Shipping section

One Step Checkout Version 1.2.0 - August 22, 2017

New Feature: Configure whether to display the header and footer on checkout page or not
Other usability improvements and minor fixes

One Step Checkout Version 1.1.0 - June 20, 2017

Added Order Comment to the Order Confirmation email
Minor bug fixes

One Step Checkout Version 1.0.4 - April 05, 2017

Fix for displaying comments for shipping methods when using Shipping Table Rates extension
Few minor improvements

One Step Checkout Version 1.0.3 - March 16, 2017

Fixed the Google address autocompletion issues
Fixed the shipping and payment methods update issues
Fixed an issue with the Braintree payment method
Other minor fixes and improvements

One Step Checkout Version 1.0.2 - February 27, 2017

Refresh the payment methods & total upon the shipping address change
Set the Zip Code optional for the specific countries
Fixed an issue for the payment methods that require redirect to the payment system

One Step Checkout Version 1.0.1 - February 20, 2017

Compatibility with Delivery Date for Magento 2
A number of minor fixes & improvements

</ul> </details>
Policy
Premium support
1-year support
30-day Money Back
No risk to try
100% Open-source
We love open-source